Natural Remedies for Back Pain FE
Unique, Original Content in the Back Pain Niche - Ready-to-Go
Top Quality, Done-for-You Content in This Lucrative Evergreen Niche - a Back Pain Package with Enough Content to Keep Your Site Active
Don't Spend Weeks Putting Content Together.
Grab This Original, Exceptional
PLR Back Pain Package
Never Published or Sold Before​
Low back pain is the single leading cause of disability worldwide

80% of of the U.S. population will experience back pain at some point in their lives

$50 billion is spent each year on back pain

9 out of 10 back pain sufferers never know the cause of their pain

Back problems are more common in women than in men
Grab Full Private Label Rights on This Package Before Others Do!
From: Kate Benzin, Freelance Writer
Dear Bloggers,
You have a never-ending need for exceptional content. Yes, you write your own original content, but you don't have time to write enough top quality content to keep your readers happy.
To keep your blog active and your readers satisfied, you need a continuous supply of blog posts, reports, cheatsheets, and quote posters. Just think how relieved you'll feel when you know that you've scheduled everything for publication well in advance of deadline.
​

Don't Worry! I've Done All the Hard Work For You!
Take a Look at the Content in This Fantastic Back Pain Package!
Cheatsheet - Natural Remedies for Back Pain
To help your readers deal with back pain, I've prepared this cheatsheet that will give them the latest news and research information on how to eliminate back pain in order to live a pain-free life.
This cheatsheet includes links to -
And It Gets Even Better!
When You Make the Wise Decision to Get This Package Today, You'll Also Get the Following Social Media Quote Posters ...
Here's what other writers say about Kate's PLR Package.
Many of us know how debilitating back aches can be. They seem to creep up on us while we're doing something else. Then we notice the ache or even the pain. If you're like me, getting to the point where I'm ready to see the doctor about it is a slow process. But Kate Benzin's ebook Natural Remedies for Back Pain and the other content in this package may help me avoid a doctor's visit all together.
As a long time sufferer of back pain, Kate has investigated many of the treatment options personally. In this content, she discusses each of those solutions/remedies in a careful and clear fashion. Several personal accounts are peppered through the book, bringing a particular remedy to life.
Congratulations, Kate, for sharing your knowledge here in a way that can help back pain sufferers so they can see the light at the end of the tunnel.
Kate Benzin's cheatsheet is full of resources for health bloggers to access on back pain and remedies that they may never have thought of. This info-packed cheatsheet contains basic data on the symptoms of back pain as well as causes, then goes on to provide videos and articles on techniques and exercises for healing and preventing back pain. If one doesn't work, there are plenty more to try!
Bloggers can use the social posters to accompany articles or the product reviews found in the OTO. In addition, chapters from the ebook can be used individually as blog posts.
This package is well written and comprehensive — everything a health blogger needs to address the worrisome issue of back pain.
Kate Benzin writes extremely well - smooth style and easy to understand. But that is just the beginning. She is thorough, detailed, and descriptive. She did something different this time in developing a Natural Treatment for Back Pain Cheatsheet, which will take you places where you will discover new ways to improve your life.
There's more. Her ebook Natural Remedies for Back Pain is extensive and provides information about preventing back pain to natural ways to overcome it and avoid it in the future. Something else that really appealed to me was the way that she wrote product reviews about products that can help back pain sufferers immediately - very organized and detailed as well as informative.
Once you see this content for yourself, you'll be very glad you bought it. Kate obviously knows what she's talking about. The information is useful, helpful, and pertinent for any health blog. Anyone who has ever had back pain knows how debilitating it is.
Get access to the Back Pain Package right now! Don't wait - it's on a dimesale so the price is going up with each sale.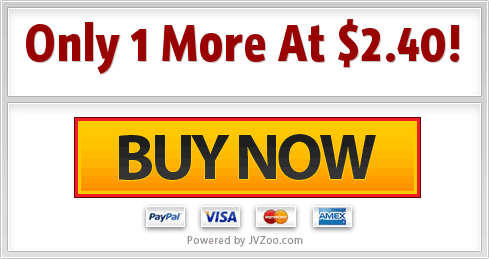 I have only two restrictions -
​